Easy Start Balance Disc – no Ball
If all you want is an easy introduction into balance training this is the best wobble board available.
CoolBoard is fun, confidence inspiring and comfortable for extended periods because it provides a rock solid balance platform with the perfect stance.
Progression is easy with a choice of two Easy Start Balance Discs, both of which are highly adjustable.
You can still use CoolBoard wobble board for all of our exercises.
Our Starter Package is perfect for
Early rehabilitation and physiotherapy post injury
Standing Desk Work
Elderly and Young
Degenerative / recurrent disability therapy
Our CoolBoard balance board Starter Package comes with one of our Easy Start Balance Discs, and does not include a Ball.
Choose our 40 cm Disc for a more stable start, recommended for anyone worried about balance training.
Go for our 30 cm Disc for a more nimble movement.
Both Discs are adjustable by inflation, so you can start with a very small amount of movement of just a few degrees.  As you improve in confidence and ability you can simply add more air for more movement.
This superior wobble board includes
Medium or Large CoolBoard with your choice of Grip-Tape
Easy Start Balance Disc – choose form 40 or 30 cm
CoolBoard A3 Exercise Wall Chart
How To Guide
You can always come back and add a Ball in the future if you decide you want the full CoolBoard experience.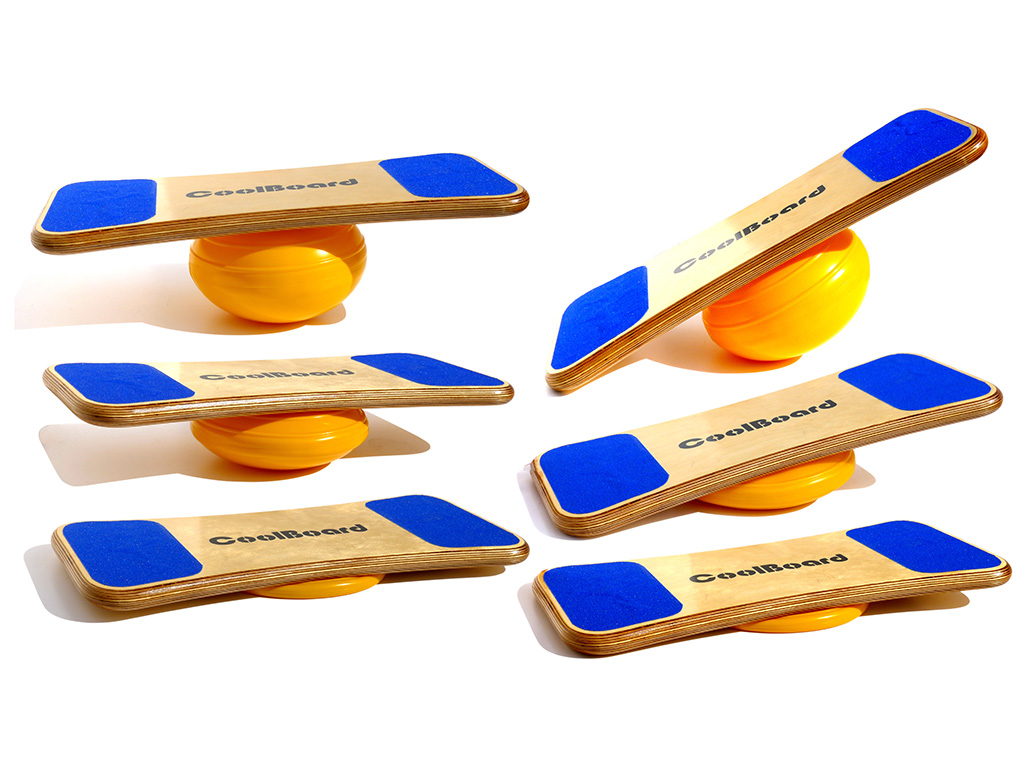 Early rehabilitation and physiotherapy post injury
Give your recovery the boost it needs.  This wobble board will target the most important aspects of your fitness for recovery – core strength, joint stabilising muscles and your proprioception.
Best of all, it is fun to use, beating the tedious nature of physiotherapy regimes.  Meaning you will use it more often so you can recover faster and more completely.
Stand on it for foot, leg, core and lower spine work.  Use the exercises to target your core, upper back, shoulders and arms.
Standing Desk Work on our Wobble Board
Working at a standing desk has many benefits, but we all know standing still for too long is not good.
By adding the gentle movement of our wobble board you will relieve aches while also improving your fitness and focus.
We recommend our 40 cm Disc for standing desks.  The more nimble movement of our 30 cm Disc can be a bit distracting, and you want to focus on your work.
If you do want to use a Ball in front of your desk you will first need to become a master of balancing on the Ball otherwise you won't get any work done!  We do it, every day, and love it, but it takes much practice before you will be ready.
Elderly and Young
Keeping your joy of life and even your independence is partly down to the condition of your body.  This wobble board means you can access the amazing benefits of balance training in a safe and achievable way.
You will be livelier, lessen aches, and be less likely to get an injury.  This is because time spent on a CoolBoard will be targeting the right areas of your fitness compared with the small but hard gains of going to the gym.
We all age, CoolBoard can make it more graceful and fun.
At the other end of the life spectrum, young children are not physically ready for the challenge of the Ball, so this wobble board can provide many hours of fun physical development, in the home or in the garden.  As your child progresses you can get a Ball in the future.
Degenerative / recurrent disability therapy
We have been supporting a series of gyms classes specifically for people suffering with multiple sclerosis.  We have been told the CoolBoard wobble board, used in a variety of ways, has proved extremely effective.  It's also the most popular part of the classes, and can be taken into the home with ease.
Alas, science is yet to provide a cure for multiple sclerosis, but a slowing of the symptoms has been seen with CoolBoard wobble board use, even a reversal for a period of time.
Consequently we are working to find out if these positive effects are also applicable to those suffering from other degenerative disabilities.