CoolBoard balance board: world leading for core-strength, physiotherapy, fitness and board-sport training
The CoolBoard balance board was developed to overcome the limitations of other balance boards by unlocking the full potential of balance training by using a range of specially developed balls.
Since then we've spent 10 years evolving the CoolBoard balance board to enable you to get the benefits of balance training whatever your ability, whatever your age and whatever your want for balance…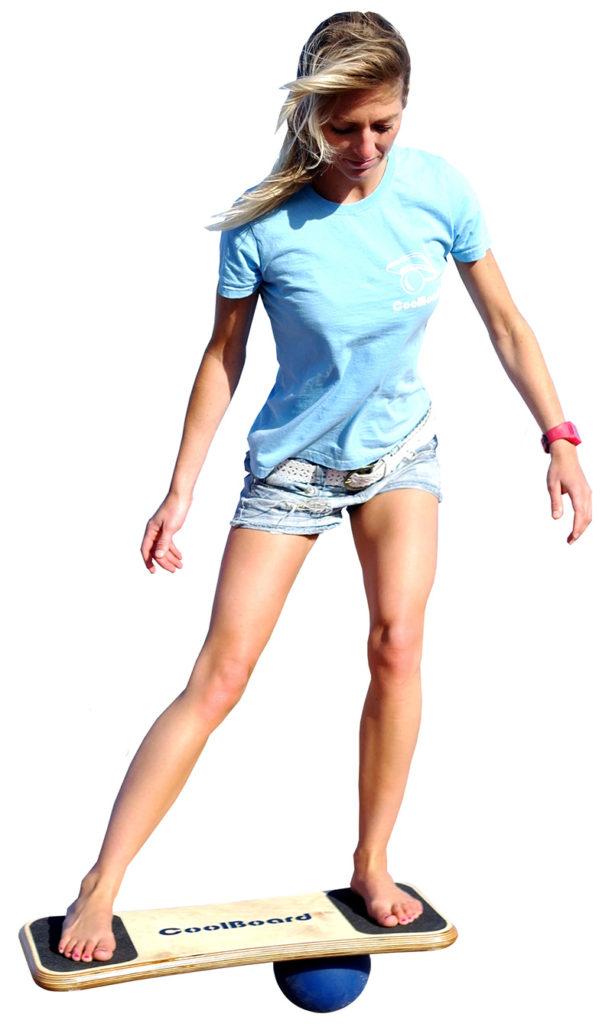 1
Fun and addictive, with many mental benefits.
2
Our exercises allow you to target the benefits of instability training anywhere on your body.
3
CoolBoard will always target your core – the most important aspect of your fitness, and one of the hardest to target.
4
Just standing on a CoolBoard will not only strengthen your core, legs and balance, it will also work your spine and leg joints.  Perfect for remaining injury free.
5
Fantastic training for all board sports and skiing.
Most actions in life, whether walking and running, doing a board sport, or chopping down trees, do not happen in one plane of movement, they use many planes of movement at once in one movement. By being fully free to move, training on a CoolBoard balance trainer allows your body, mind and proprioception to prepare itself for the complex movement patterns of everyday life and sport.
This extra movement means that more of your muscles, tendons and ligaments or worked in more planes, thus all physical benefits are greatly increased. The same applies to your brain and your proprioception. This makes the CoolBoard balance trainer one of the most effective trainers you will find.
The added benefit of this movement is that it is fun, addictive and constantly challenging. This means you are far less likely to tire of your workouts. In fact you will find you keep coming back for more, day after day, and year after year. It means that using your CoolBoard is a pleasure, a fun activity in its own right. Physiotherapists love this aspect for CoolBoard as the key to good recovery is frequent and regular use, and many people tire of their traditional recovery workouts quickly – enter CoolBoard!
In the past I'd tried the yoga ball which is okay for the core muscle groups but the Coolboard just does everything, feet, ankles, knees, buttocks, even my arms…

Customer – Chris Baines