CoolBoard is quite simply the best balance board on the market – for everyone.
A bold claim, you may say…
A bold claim it may be, but our patented 360 degree movement and flexible configuration provide outstanding results for athletes at the top of their game, to those wishing to stay fit into their 80s.
…How?
CoolBoard is both a balance board and a wobble board. Balance on a ball to provide full 3D movement and provide the ultimate workout, or balance on our inflatable disc for a more accessible workout that will improve co-ordination, balance, muscle strength and much more. It also happens to be rather enjoyable!
We are so confident you will love CoolBoard we offer a 30 day no questions asked money back guarantee!
……OH MY!!!! i have been teaching board sports for years now, I've tried every balance board ever made, they are all okay but nothing comes close to the coolboard…

Amy Windsor – Watersports Instructor
ultimate Core Trainer
Unique movement targets Core and Stabiliser Muscles like nothing else
Over 70 exercises and stretches available
Start Easy on our Easy Start Balance Disc
I can certainly confirm CoolBoard does a brilliant job of working your core muscles, I'm very impressed. This simple little device provides quite a workout and it's way better than any other core stability device I've used before

Barefoot Runner Magazine
…it's great fun! I'm very glad I opted for the easy start disc as it made the board less daunting to start using, especially for my Mum who is a pensioner. She's hooked already!

Nikki – Customer
coolboard balance board packages
See our unique 3D movement
Oh so simple – oh so effective!
This is why CoolBoard beats all other balance boards, balance trainers, wobble boards, suspension and instability trainers.
Our unique movement is the secret to the amazing effectiveness of CoolBoard.
Learning curve: a couple of short sessions a day for 2 – 5 days.  See tips in the instructions.
No other trainer moves like CoolBoard.
Balance training for all ages and abilities.
Our Easy Start Balance Disc is well named!
Transforming CoolBoard into a fantastic wobble board.
Solid confident stance & fully adjustable.
Enabling everyone to instantly get the benefits of balance training.
Start with low inflation giving just a couple of degrees of tilt.
Increase the challenge by inflation as your confidence and balance improve.
Unlike all other balance boards, CoolBoard is fully free to move – training your body, mind and proprioception for the complex movement patterns of everyday life and sport.
Most actions in life – walking, running and chopping down trees – do not happen in one plane of movement, they use many planes simultaneously in one action.
CoolBoard's unique 360 degree motion will work more muscles, tendons and ligaments, and will work them in more planes of movement.
The same goes for your brain and proprioception, making CoolBoard balance board one of the most effective trainers you will find.
CoolBoard is fun, addictive and constantly challenging so you are far less likely to tire of your workouts.  You will  keep coming back for more, day after day, and year after year. Using CoolBoard is a pleasure, a fun activity in its own right.
Physiotherapists love this fun aspect of CoolBoard balance board.  The key to good recovery is frequent and regular use, and many people tire of their traditional recovery workouts quickly – enter CoolBoard!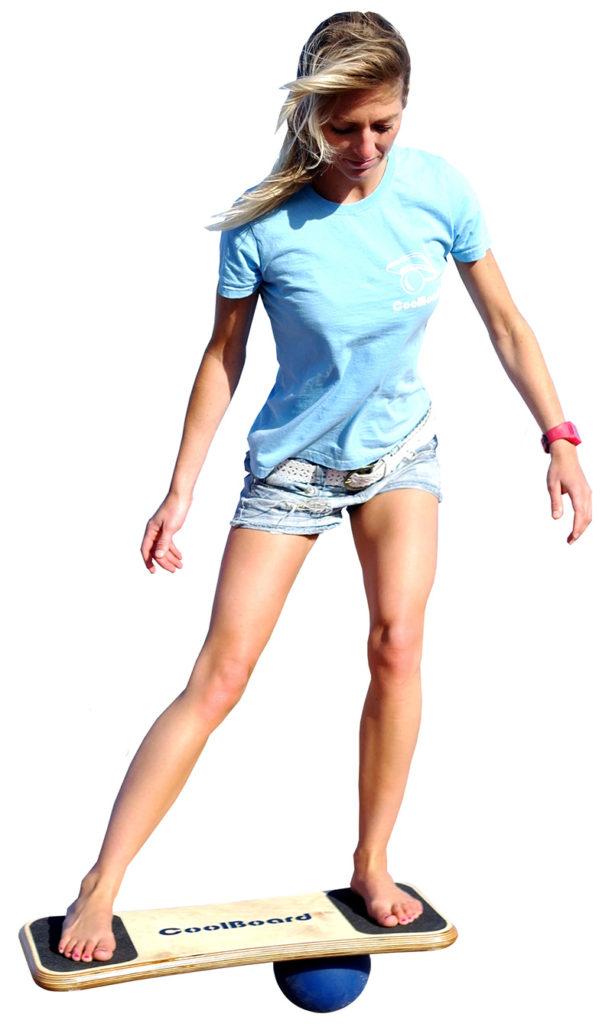 1
Fun and addictive, with many mental benefits.
2
Our exercises allow you to target the benefits of instability training anywhere on your body.
3
CoolBoard will always target your core – the most important aspect of your fitness, and one of the hardest to target.
4
Just standing on a CoolBoard will not only strengthen your core, legs and balance, it will also work your spine and leg joints.  Perfect for remaining injury free.
5
The highest quality balance board available.  30mm of birch ply lovingly hand crafted.
In the past I'd tried the yoga ball which is okay for the core muscle groups but the Coolboard just does everything, feet, ankles, knees, buttocks, even my arms…

Customer – Chris Baines
why CoolBoard balance board
Honed, evolved and perfected over the last 10 years – here at CoolBoard we strive to provide you with the worlds best balance board.
Quality
30 mm of Birch Ply, lovingly hand formed in our workshop, finished in tough but beautiful varnish – your CoolBoard will last a lifetime.
This gives zero flex which is just want you want for balance training.  Many other top brands try to get away with poorly finished 12 or 18 mm boards.
Customer Service
We are here to support you for as long as you have a CoolBoard.  Not sure what to get?  Just ask.  Start a new sport or get injured in 5 years time – just ask!
Progression – wobble board to balance board
With a range of fully adjustable Balance Discs and Balls,  your CoolBoard Package can be tailored to your current and future needs.
On our Discs CoolBoard is the worlds best wobble board – confident stance and highly adjustable – for an easy start, physiotherapy and standing desks.
On our Balls CoolBoard is the worlds most effective balance board and core exercise board – pick your size and speed…
Movement – the only 360 degree balance board
A wobble board or swiss ball will tilt in all directions, but only tilt.  A roller balance board will tilt and roll from foot to foot, but won't move in the toe to heel direction.  CoolBoard will tilt and roll in all directions.
Originally made to replicate a surf board, others soon saw the potential – not only for all board sports due to the fantastic toe – heel control, but also for any sport and life in general as balance is always important.
This movement also targets core strength and stabiliser muscles with immense effectiveness – perfect for physiotherapy and core strength training.
benefits of balance training
see our unique balance board in action
CoolBoard balance board was developed by me to replicate the movement of a surf board when I was trying to learn to surf and needed to tame my Bambi like legs.

I didn't like the feel of the balance boards available, mostly because they lacked the toe – heel movement – vital for surfers, so I made my own.

CoolBoard was a success – my surfing less so!

CoolBoard overcomes the limitations of other balance boards – unlocking the full potential of balance training.

Since then I have spent 10 years evolving CoolBoard balance board to enable you to get the benefits of balance training whatever your ability, whatever your age and whatever your want for balance…
meet your maker – Nic
Homegrown by me, I have spent 10 years perfecting the worlds best balance board
With my passion for outdoor activities and keeping fit without tedium I hit upon a wonderfully simple and effective idea – CoolBoard
Whatever your age and ability CoolBoard is best balance board and wobble board.
For board sports, core strength, physiotherapy, and keeping happy & active at home.
Scroll for more info, click Here for our story or give me a call for a chat 0117 949 8338